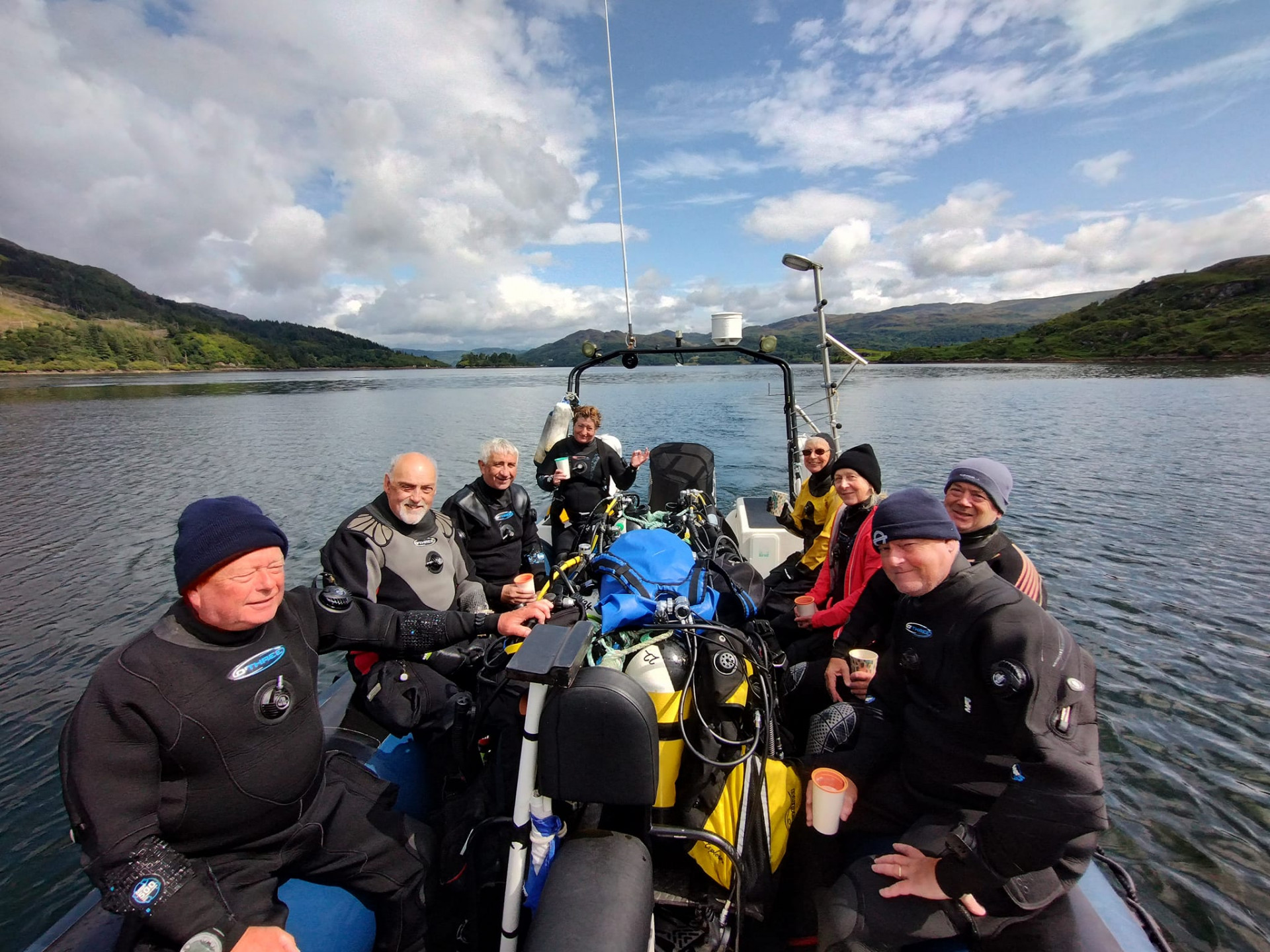 Trip to Dunoon
August 27th, 2023
Planning for Dunoon began last year at the Trips Night, when we decided to boldly go where Mid Herts Divers had not gone before rather than venture to one of our usual haunts such as the Farnes, Plymouth or Pembroke. We opted to go to Dunoon, in the Clyde Estuary, with Wreckspeditions. We had known of Wreckspeditions for some time, as Claire, Wreckspeditions' expedition planner, was for a long time based here in Herts/Beds. Booking a week's diving with her was simple, as was arranging our accommodation with Justin the owner of Coorie Braw. Overlooking the Clyde, this large self-catering 'cottage' was suitable for 10 of us and provided excellent facilities including ensuite rooms and a hot tub!
After a seven hour drive and a ferry crossing to Dunoon, we arrived a little jaded but after a meal of local fish and chips, a visit to the Burgh Bar in Dunoon and a good night's sleep, everyone was prepared for diving the next day. Jason, a highly experienced skipper, Dive Leader and instructor, met us bright and early the next morning at Holy Lock Marina and acquainted us with 'Starfish Enterprise', a Redbay Stormforce 7.4m RHIB. (Pictured above)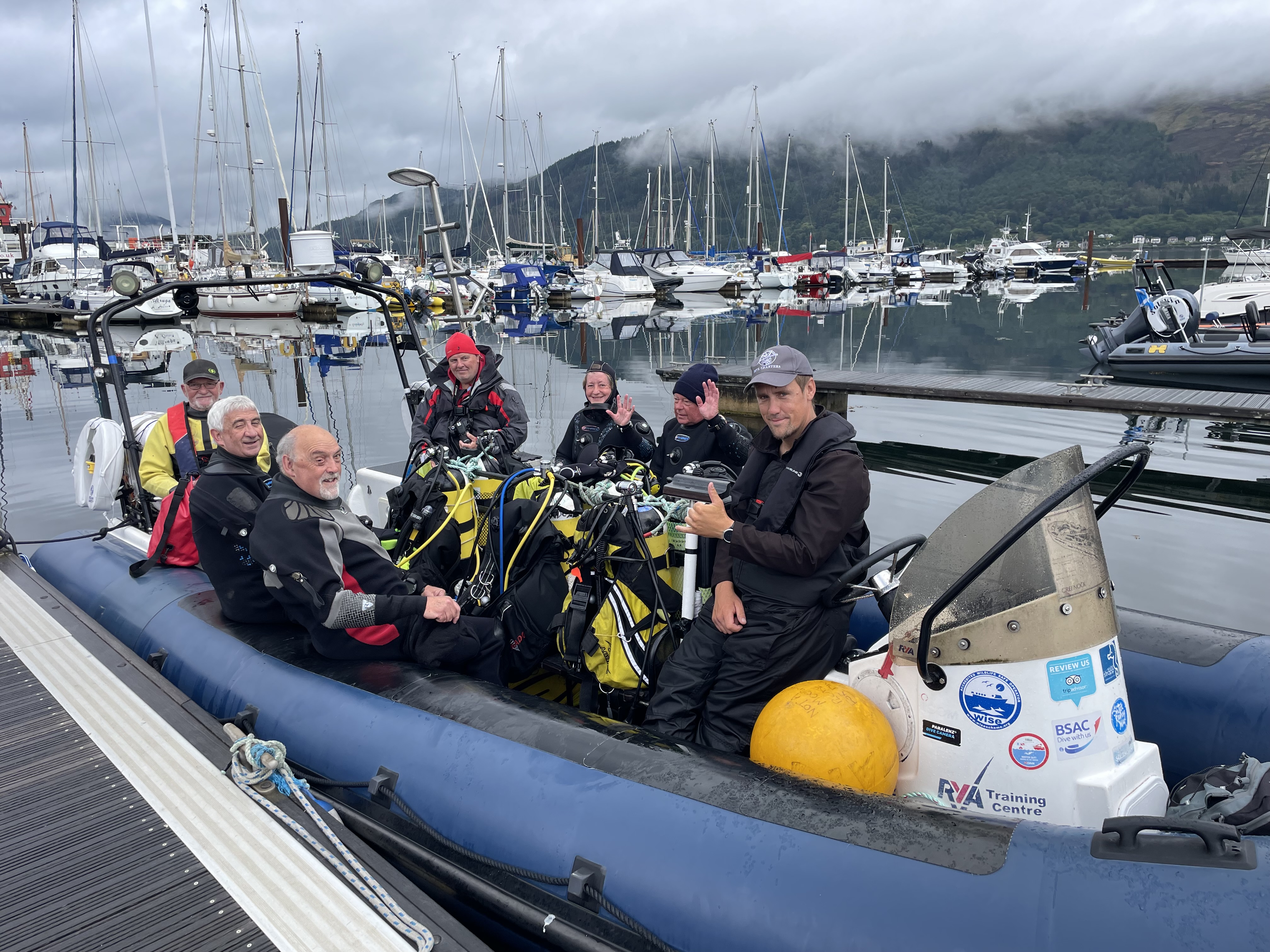 After a thorough boat and dive safety briefing, we were off to Portincaple Wall, a sheltered position with crabs, anemones, Deadman's Fingers, hermit crabs and starfish in abundance. Unfortunately, the weather wasn't in our favour and with strong easterlies and rain causing brown runoff into the Clyde, the second dive was cancelled. A drop in water temperature from 14/15°C a couple of weeks before, down to 11°C made a few of us feel pretty chilly so the hot chocolate with marshmallows and whipped cream along with a homemade flapjack was readily consumed once aboard!
On Monday we ventured out to the Akka, a bulk coal carrier sitting at a depth of 18-40m. Most of her superstructure remains well intact including half of the bridge section amidships, winches, stairwells, ladders and more. Due to its size, we were only able to dive the bow section. It's carpeted in marine life from top to bottom; brittle stars and jewel anemones, Deadman's Fingers and nudibranchs – something for everyone's interests. We followed this in the afternoon with an enjoyable scenic dive on the Gantocks. Amid the outcropped reefs and gullies, we were entertained by a couple of inquisitive seals. A delicious meal of scallops was enjoyed by all that evening courtesy of Trevor.
A mix of scenic and wreck diving continued throughout the week. We spent a day out of the main channel at Tighnabrauich (locally called Tinny) where we boarded Starfish Enterprise at the village pontoon next to RNLI Tighnabruaich Lifeboat and enjoyed two great wall dives. Named the Maids of Bute, we were greeted with plenty of life and much clearer waters at depth, with some saying they found 8m visibility in places, much better than the 2-3m we had up until then. Despite the persistent easterly winds, Jason continued to find us interesting sites; the disused Inverkip jetty, the Seagull liveaboard (CD wreck) in Holy Loch and a second dive to the midships on the Akka. Finally, we ended the week with a second rummaging dive on the Gantocks, collecting a few tasty morsels to take home. 
Sadly, the final day's diving was blown out, so we decided to explore above water instead. In an area of outstanding beauty, we weren't short of places to visit such as Benmore Gardens Puck's Glen and the surrounding beaches.
For our final evening, having been spoiled by Stewart's, Trevor's and Pete's culinary skills all week, we treated ourselves to a delicious meal at the Tryst pub and toasted a most enjoyable trip.
Undeterred by the poor vis, low water temperature and strong winds restricting our options, Wreckspeditions ensured we enjoyed our week's introduction to the Clyde. Jason's excellent local diving knowledge and emphasis on safety resulted in a great week's diving in the estuary. Providing the air cylinders and filling them for us each day was icing on the cake!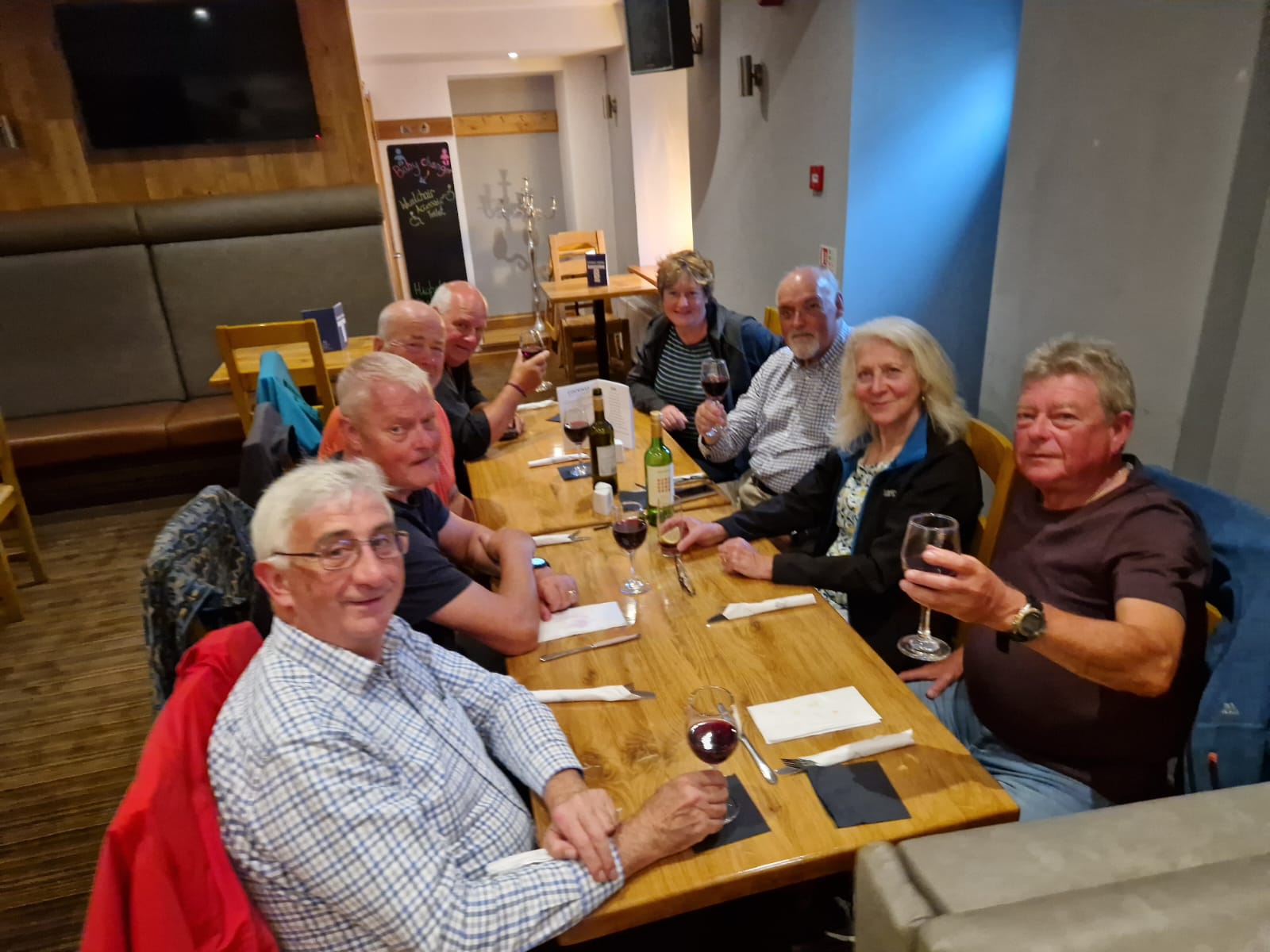 Mid Herts will certainly be returning to Dunoon!
Divers: Clive, Trevor, Tanya, Colin, Pete, Martin, Sue W, Sue H
Non-divers: Stewart, Alan