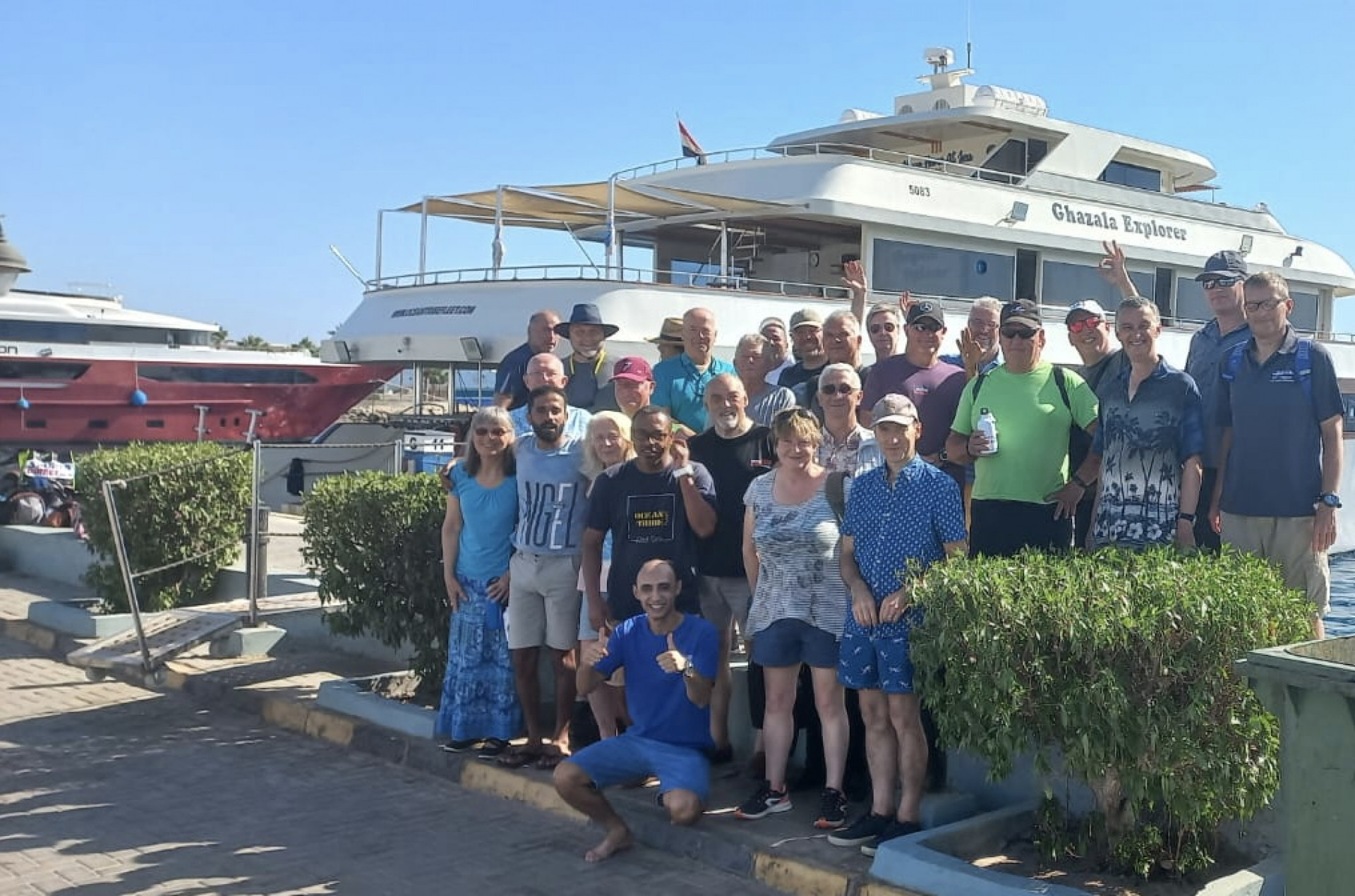 Red Sea Trip – Sept 4th to 11th 2023
September 23rd, 2023
Very early morning on Monday 4th September, 22 bleary-eyed members of Mid Herts Diving Club met at two pick-up points in Stevenage and Welwyn Garden City for our hired coach to take us to Gatwick airport. The bus had just enough room for us and all our gear. An additional two of our group of 24 had driven directly to the airport.
A 5 ½ hour (delayed) flight and we reached Hurgharda in Egypt. A Scuba Travel rep was there to help us navigate through immigration and soon we were on another bus for the short transfer to the Hurgharda Marina. There awaited us our live-aboard for the week "Ghazala Explorer".
It was a magnificent sight all lit up at night and the inside did not disappoint either – only two years old, the large vessel is smart, very spacious and well equipped. Even the cabins had plenty of space, comfy beds and all-important air-con. As our flight had been delayed and it was getting late, we had just a quick intro by the dive guides before a light meal and bed, although the level of excitement, and unfamiliar noises, meant that no one slept very much!
Up at a reasonable hour, as it was the first morning, for our first dive at "Tobia Arbaa" (FourTowers) to which the boat had motored through the night to be on-location. This dive was for the most part just to test our equipment, ensure our weight was correct and to get our first taste of what was to come.
For those of us new to the Red Sea, and especially for me as it was also my first ever dive outside the UK, it was simply incredible to be swimming amongst such a vast array of fish, surrounded by the most amazing corals, and with 20m+ visibility, in water at 27 degrees C – in a word: Wow!
That was just the first of a week of 21 fantastic dives. It was a mixture of wrecks and reefs, diving up to four times per day – ending on a night-dive most days at around 8pm. Highlights included wrecks of the Salem Express, Carnatic, Marcus (Tile boat), Ghiannis D, Dunroven and of course the SS Thistlegorm (which we dived three times!). Reefs we visited included Shark & Yolanda, Jackson, Thomas, Ras Ghozhani, Gubal Seghir (for The Barge), and Shaab El Erg.
Expectations were high of course for the wildlife that we might see, and we were not to be disappointed. We spent the time between dives leafing through the guide books to identify the numerous fish we had seen. Highlights included Blue-spotted Rays, Clownfish, Scorpionfish, Stonefish, Moray Eels, a huge turtle and dolphins (on the surface, we did not get to swim with them, unfortunately).
The crew on the Ghazala Explorer were very friendly, always helpful and attentive. It is so nice to have someone there to help with your your kit and fins before and after each dive.The meals were always freshly prepared on board and a good selection at each meal, including omelettes/eggs cooked to order for breakfast.
All good things must come to an end, and so it was all-too-soon, our last day of diving, at Umm Gamar, before the return to the marina. A last dinner on board before a few drinks were had at some local bars to round off the week. The following day, we were transferred to a nearby Beach Club, for a relaxing day in the sun/shade/pool/sea, before our evening flight home, arriving in Gatwick at around 1am. A great week was had by all, and for me personally, a fantastic introduction to blue-water!